Factors to consider when choosing your wedding photographer !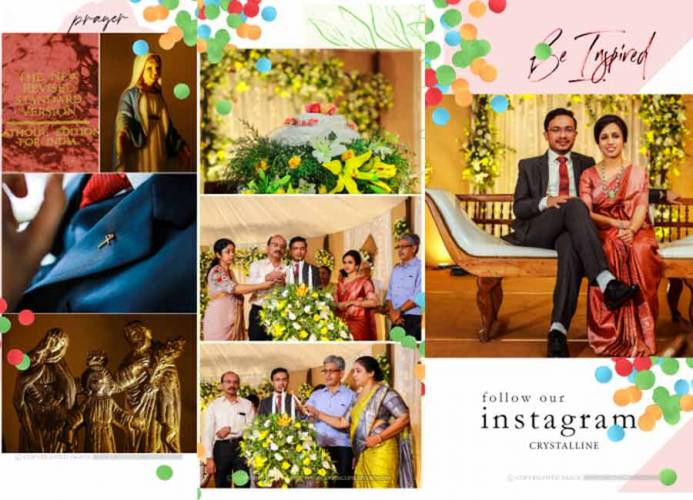 Photography can be almost limitlessly complex as it is an art that has the mystic ability to freeze moments. With the number of photographers in the industry today, capturing one of the most joyous events in a person's life span with the best photographers of Kerala is vital. Choosing your Wedding Photographer is as tough as it is important as it deserves a lot of skill and perfection. No matter how stunning you look in your gown and how magical the ceremony is, it's really important to make sure you know what to consider to ensure that you get the best wedding photographs on your big day as you cannot go back and retake your wedding photos. Crystalline will get you covered well as we always determine the quality of the images. Choosing the best wedding photographers for you can be a daunting process but hopefully, this blog will walk you through the factors to consider when you skim for the best wedding photographers in Kochi.
Know what you're willing to spend
Your wedding photographs are one of the only things that you will have left to remember celebrating in that beautiful venue, so quality wedding photography is not something to skimp on. Love and admiration for photography are key contributors to deciding on a budget, so always keep a range in your mind while deciding on the budget. Don't lose the opportunity to spend a little extra for better style, think wise and see how much you see your wedding pictures as an investment. Packages vary but try to get the best photographers of Kochi or otherwise you regret it later.
Get to know your photographer
It's your wedding day and your photographer is going to spend a greater chunk of the day with you. To get the best images and a true account of the most important day of your life, it is important that you feel comfortable with your photographer on your big day, after all. Lively and emotive pictures will give you an idea about his or her personality and the personality of the wedding photographer is indeed reflected in the pictures. If you feel uncomfortable around your photographer for whatever reason then this will become very apparent in your wedding photos, thus ensure you meet with your photographer a couple of times before confirming your best wedding photography packages and make sure that you get along with them.
Check out the right portfolio, do your research
Most good wedding photographers have a blog that they update with new weddings, and other photo shoots, and when you are shortlisting a wedding photographer, make sure he or she has the right portfolio. Be sure to go over and have a look at some of their recent weddings and then fill out the contract forms. If you are sure you love their style that matches what you have in mind, choose wisely. Once you're ready to sign the dotted line, read your contract very carefully, clarify any questions you have and protect yourself and your money as you finalize this decision.
Word of mouth and references
Choosing the best wedding photographer referred by a friend can be a good idea as they share their experiences with their wedding photographer and try to make use of tips and advice from those who have organized their weddings. Recommendations can come through from previous clients and word of mouth. A good wedding photographer will always be able to give you a testimonial from previous clients upon request but again, this should not be the main reason for your choice.